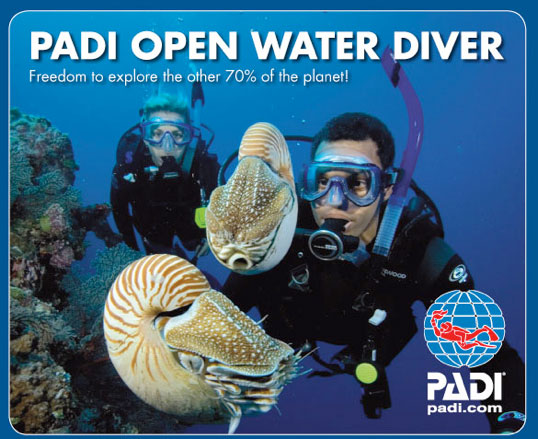 Open Water Diver
You want to learn how to dive now? Your goal is to dive with a buddy without an instructor?
Then the OWD is the right course for you!
Start the Open Water Diver course with us. We teach you the skills and knowledge you need to become an independent diver. Starting with dives in the pool, you will learn how to breathe under water, how to float and how to behave as a diver. In the theory lessons we will give you background information and knowledge through presentations. The course ends with open water dives where you demonstrate the skills you have learned under our supervision. At the end of the course you will receive an internationally recognised PADI Open Water Diver certificate.
The Open Water Diver course (OWD) is the most popular diving course worldwide.
Here you learn to dive independently with a partner. In contrast to the Scuba Diver, at the end of the course you explore the underwater world without instructor guidance. As an OWD, you can rent diving equipment, participate in diving activities at a dive centre or dive independently with a dive buddy. This diving certificate is valid worldwide and is recognised at every dive centre.
The diving environment should be appropriate to your level of training. This course teaches diving for real conditions. For dives in special conditions such as night diving, deep diving or drift diving we recommend a special course. Completion of the PADI Open Water Diver course allows you to participate in these advanced courses.
Course schedule
Consultation meeting
Swimming Pool Dives
Theory modules
Completion meeting
Open water dives
Swimming pool
In five hours of swimming pool you will learn how to dive with and without equipment in a safe environment.
We start with exercises such as assembling equipment, breathing from a regulator or how to easily remove water from a mask.
With each pool lesson you learn skills to move safely in the water.
Here we make it a point to allow enough time for practice.
By the end you will be able to float through the water with ease, be able to help yourself in any problem situations and be able to handle your equipment perfectly.
Theory
In addition to the pool dives, we provide the necessary background knowledge in five theory lessons.
For each theory lesson you have the possibility to watch the corresponding part on DVD at home.
In the accompanying textbook you can read up on each lesson and answer review questions.
Afterwards, we will discuss the most important points in the classroom, give tips for practice and answer your questions.
Each lesson ends with a knowledge test so you can see how far your knowledge has progressed.
Open water
Now come the open water dives.
These four dives give you the opportunity to put the skills you have learned in the pool into practice in the open water.
Explore the underwater world with us and get to know new worlds. During the open water dives, the skills from the swimming pool training are put into practice.
At the end of the course you will receive your Open Water Diver certification.
Course requirements
Minimum age 15 years or Junior Open Water from 10 years of age
Normal health
Own mask, snorkel and fins
To take part in the course, we only require a self-disclosure of your state of health or a medical certificate.
If you have any known health problems, we will require a medical certificate.
Perhaps you would like to have a diving fitness examination with a sports doctor before your course?
You will receive the relevant forms from us or from your doctor.
For the diving course we provide the necessary equipment for scuba diving.
For diving you need your own ABC equipment (mask, snorkel and fins).
The ABC equipment is part of the basic equipment of a diver.
The diving suit required for the open water dives will be provided for you in the usual size during the course.
Do you have any questions? No problem. Call us or contact us by e-mail:
Tel. +385 99 5375 459 Mail This email address is being protected from spambots. You need JavaScript enabled to view it.