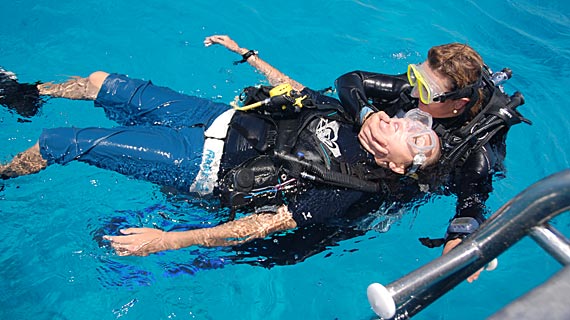 Course content

Self-rescue
Stress management
Emergency management
First aid for diving illnesses
Emergency recognition
The course consists of

5 theory modules
10 rescue exercises spread over 5 training sessions in the pool or confined open water.
4 rescue scenarios in open water, which are integrated into the rescue exercises trained in the swimming pool.
Course materials

PADI Rescue Diver Kit. It contains all the necessary materials to successfully complete a PADI Rescue Diver course, including a pocket mask.
The included DVD helps to refresh the acquired knowledge at intervals.
Participation requirements
To enrol on the PADI Rescue Diver course you must be 12 years or older.

Hold a PADI Adventure Diver certification (or equivalent certification from another organisation).
Have completed a First Aid course with CPR within the last two years. Have completed the Emergency First Response course.
After the course you will be able to anticipate problems and, if possible, recognise them in advance, thus increasing your confidence in diving and conveying professionalism in your diving behaviour to other divers.
You have effective skills in diver rescue and first aid.
You are prepared to deal with real life rescue situations and expand your knowledge for future PADI professional training.
Still have questions? No problem. Call us or contact us by mail:
Tel. +385 99 5375 459, Mail This email address is being protected from spambots. You need JavaScript enabled to view it.